Oracle Exadata is the best-in-class, integrated platform for all of your database application needs — an enterprise-ready solution that offers extreme performance. You need a complete, integrated support service that matches this standard and keeps your systems delivering for your business.
Upgrading to a new Exadata database can be a complicated, drawn out process. Focus Datatech Systems is here to help with the knowledge and expertise to streamline the implementation of your upgrade and expand upon its capabilities with further applications.
With Focus Datatech Systems, you get unparalleled expert support when you need it at a global scale for your Oracle Exadata systems. With our Exadata DBA experts, we seamlessly deliver the best level of support and provide the following: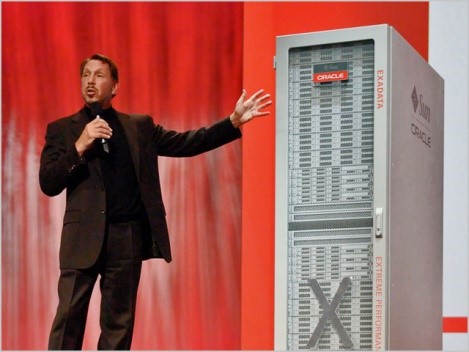 Larry Ellison
Larry Ellison Explaining About
Oracle Exadata.
⦁ Sizing and planning an Exadata implementation for your organization.
⦁ Monitoring your Oracle Exadta for performance issues, storage issues, backup issues and resolve     them based on the SLA
⦁ Migration of various applications and technology to Exadata Database Machine
⦁ Exadata Database performance Tuning
⦁ Exadata Storage Cell Server Configuration & Tuning 
⦁ Storage management of Exadata Storage Servers
⦁ Integration of various applications
⦁ Work with Oracle Platinum Services to resolve critical Exadata hardware/software issues
⦁ Technical reviews, Exadata project management, Single point of Contact for Escalations
⦁ Design & implement backup and recovery solutions to safeguard you data
⦁ Implement near DR or far DR site using Oracle technology
⦁ Free your staff to concentrate on core business challenges with consistent, well-defined Exadata Support Services 
⦁ Manage and resolve issues quickly and efficiently 
⦁ Save time and money when you reduce IT and management complexity with a single point of service accountability
⦁ Run your business technology confidently with secure, dependable support 
⦁ Protect your data and help maintain data availability